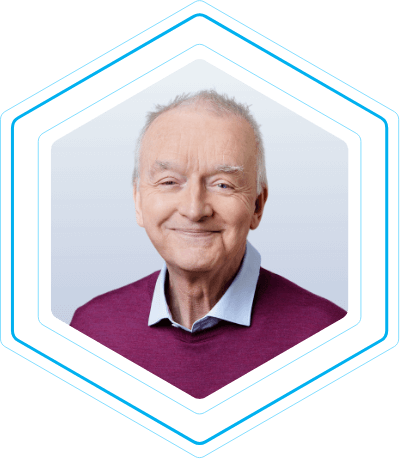 Chief Scientific Officer and Cofounder
Pete Strong is Pulmocide's Chief Scientific Officer and Cofounder. Pete's pharmaceutical industry career from 1980 to 2003 was spent at Glaxo, GlaxoWellcome, and GlaxoSmithKline, with a focus on respiratory drug discovery and development, ending as VP of Strategy and Operations, at RI CEDD, where he worked on the discovery and development of the novel inhaled, once-daily steroid, beta-agonist, and anti-muscarinic, which make up Trelegy Ellipta. Pete cofounded RespiVert in 2007 and stayed with the company through its acquisition in 2010 by Centocor Ortho Biotech (J&J). Pete was a member of the small team that licensed the appropriate RespiVert intellectual property rights to TopiVert Ltd, leading to the successful Series A funding of that company. Pete then cofounded Pulmocide Ltd. in 2013, where he co-invented PC945/opelconazole and coauthored a series of publications describing its properties.
Pete has a B.A. in biochemistry from York University and a Ph.D. in biochemistry from the University of Leeds.