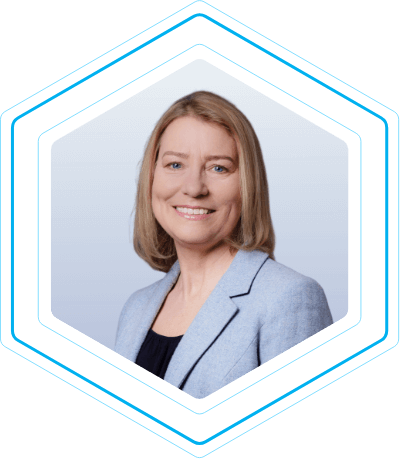 Managing Director, UK, and Head of CMC
Anne Brindley has a dual role in Pulmocide as Managing Director, UK, and Head of CMC (Chemistry, Manufacturing, and Controls), and she brings more than 30 years of experience in pharmaceutical development and corporate leadership from both the big pharma and biotech sectors. Anne was previously CEO of Nuformix plc, whose lead asset was an inhaled therapy for idiopathic pulmonary fibrosis, and prior to that, CEO of Advent Pharmaceuticals Pty Ltd, in Australia. Advent developed inhaled generics for the US market, and Anne secured the sale of the company to Aurobindo Pharma Inc. Previously, Anne was Managing Director and Head of CMC at RespiVert (a subsidiary of J&J), which developed a portfolio of novel inhaled compounds for asthma and COPD. Her other previous roles were at Skyepharma (Switzerland), where she played a key role in achieving European approval of the Flutiform® inhaler, AstraZeneca (UK and Sweden), where she had a pivotal role in the US approval of the Symbicort® inhaler, and GlaxoWellcome, where she started her career in the development of inhaled products.
Anne has a pharmacy degree from the University of Bath and a Ph.D. in drug delivery from the University of Nottingham.